Syntrinsic Research strives to analyze the complex relationships between economies, markets, companies, countries, and, of course, investors, to discern meaningful lessons from those relationships, and to communicate those findings in a manner that is accessible, engaging, and ultimately, useful. Our independent investment committee draws upon raw data from agencies and central banks, the views of economists and analysts from major financial services firms, insights from a wide array of money managers, and our own team's extensive engagement in the capital markets. We hope that you find useful our objectivity, breadth, and rigor.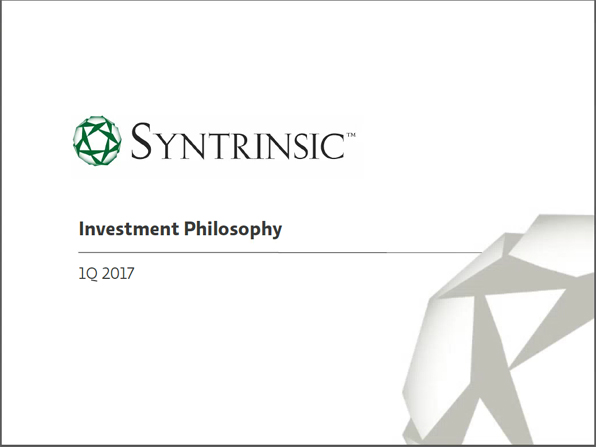 Investment Philosophy
Just when fundamentals seem to no longer matter, they are most likely to matter a great deal. Over the past few years, unusual market behavior has called into question core understandings of the investment markets and portfolio construction. To thoughtfully engage these questions, objective research is a more powerful tool than ideology or sentiment; thus, we have developed Syntrinsic's Investment Philosophy to inform your deliberations on these important issues. We hope that you find it useful.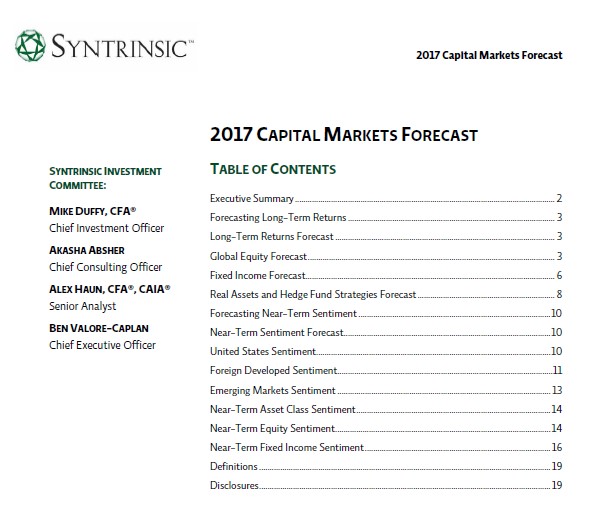 2017 Syntrinsic Capital Markets Forecast
Syntrinsic presents 2017's long-term (ten year) forecast for capital markets and our near term (three year) sentiment about the major economic regions and asset classes that most drive portfolio development.