Ben Valore-Caplan, Chief Executive Officer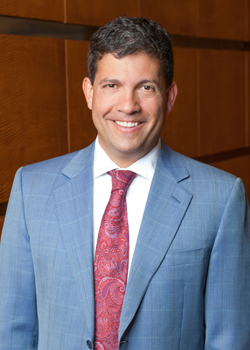 Ben is Founder and CEO of Syntrinsic Investment Counsel, guiding the firm's vision, mission, and strategy while supporting several client relationships. Prior to launching Syntrinsic, Ben was Senior Vice Presdient and leader of BVC Institutional Consulting Group at UBS. He earned his Bachelor's Degree from Brown University and MBA from the University of Denver.
Before becoming an investment advisor, Ben served as an educator and social entrepreneur. Chief among his efforts, Ben created Denver Summerbridge, an academically rigorous educational opportunity program enabling economically disadvantaged young people to attend and succeed in college and beyond while training talented high school and college students to become impactful educators and community leaders. The program served as a model and catalyst for several other youth opportunity programs, and it continues to thrive over twenty years later under its new name, Breakthrough Kent Denver.
Ben is the author of the award-winning book, Leadership Magic. In addition to his many Syntrinsic Commentaries and research pieces, Ben's articles and insights have been featured in numerous media, including the Financial Times, Denver Business Journal, Denver Post, RIAbiz, and American Public Media's Marketplace. He is a former editorial board member and author for the Investment and Wealth Monitor. Ben has been a frequent speaker on fiduciary duty, behavioral finance, and investment management at conferences throughout the country hosted by Exponent Philanthropy, the Society of CPAs, and several other affinity groups.
From 2012-15, Ben served as a Trustee, Board Vice Chair, and Investment Committee member of Colorado's $40+ billion Public Employee's Retirement Association (PERA). He remains actively engaged in striving to make the Plan financially sustainable through the Denver Metro Chamber of Commerce and other channels. He serves on the Board of Trustees of Colorado Succeeds and the Colorado Zoological Trust, is an active member of The Colorado Forum and Colorado Concern, serves on the Rose Community Foundation Education Committee, the Investment Advisory Committee of the City and County of Denver, and as Chair of The Logan School's Investment Committee. He has served as an officer of the Board for Denver Jewish Day School, The Logan School, and Denver Urban Gardens. Ben was named Coach of the Year by the Colorado Rapids Youth Academy. He has earned his Series 66 through FINRA.
Ben, his wife, and children enjoy the outdoors. They travel, play music, make stuff, write, cook, play games, and generally enjoy each other's company from their home in Denver, Colorado.
Ben's Story
She was from Cambodia and in Cambodia, girls did not play soccer. But she was in America now. And not just in America, but attending a prestigious independent school. She had been a student in a nonprofit educational opportunity program in which I had served as dean of faculty. Her spunk and intelligence were apparent and she took advantage of every opportunity. I got to know her as a student first and was not surprised when she earned a full-ride scholarship to the independent school. Then, fortunately for me, I got to be her soccer coach.
We all knew that soccer was in some ways a luxury for her, for the odds were not in the favor of girls from her economic and cultural situation. One of her peers—equally bright, equally deserving—lost a similar scholarship when she was forced into an arranged marriage at age 14. Yes, in America. But soccer was also a way of taking charge, gaining confidence, and having a very good time. She did well, so good that by the end of the season, she had earned an award for most improved female athlete not just in soccer, but across the school.
I have been blessed to teach and coach many young people over the years and each one of them has impacted who I am today.