Michael Duffy, CFA®, Chief Investment Officer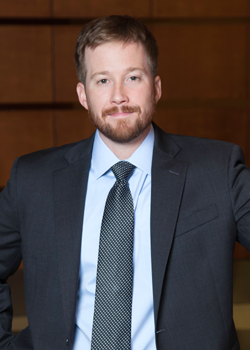 Mike serves as Syntrinsic's Chief Investment Officer. He oversees manager due diligence and capital markets research and leads the firm's investment committee. Prior to joining Syntrinsic, Mike was Associate Portfolio Manager for New York based Leeb Capital Management, responsible for maintenance of company level research. He then served as a Registered Representative at Charles Schwab, educating investors on portfolio management and implementing complex option strategies on behalf of clients.
Mike is a holder of the right to use the Chartered Financial Analyst® designation. He earned his Bachelor of Science in Business with an emphasis on finance at the University of Colorado at Boulder, from which he graduated with distinction.
Mike enjoyed a prior career on ski patrol at Beaver Creek and possesses a true love of the outdoors, particularly the mountains and deserts of the Southwest United States. When closer to home, Mike volunteers extensively at a local animal shelter.
Mike's Story
Originally, I wanted to adopt a dog. Being a rather analytic and risk sensitive guy, I decided to volunteer at an animal shelter so that I could do my due diligence and find that elusive dog diamond in the rough. However, it was not that easy.
Once I started volunteering, I realized that these dogs all needed me more than any one of them did, that they all needed a walk, that they all longed to be petted and cared for. And so, while I still don't own a dog of my own, I go to the shelter twice each week and care for the dogs there. One day, I'm sure, I will have a dog of my own, but for now, I'm enjoying this ever-evolving community of animals that just need a little extra care, a little love.